This is part of the duotone demo fleet but never used.
Comes with tri fin set 
Take your big wave riding to a whole new level with the new Duotone Session SLS, combining the latest construction techniques and an updated shape for the ultimate carving experience.
The Session SLS gets a major update for 2021, Sky Solbach and the pro team have been working hard to get even more performance from this classically shaped big wave carver. The goal was to give the board more speed and power for when the waves were not pumping. This would increase the range and usability of the board so that it could still excel in big fast and powerful waves, but for 2021, it now has the drive to perform when the conditions aren't playing ball. The rounded pintail remains to ensure the carving is unbeatable, but the centre point has been made slightly wider to increase float. The nose and tail have also been pulled in, this makes the board more manoeuvrable and agile on the wave face for more dynamic top to bottom turns.
The Duotone Session SLS is a fantastic all-rounder that gives you maximum control in all conditions with a rail that will grip and drive through the most demanding of bottom turns. No matter the size of the waves, the board stays engaged and connected at all times. If you want to blaze a trail on the wave with the fastest carves, the Session is the board for you!
Read more about Strong Light Superior (SLS) products here.
Key Features
BEST CARVING
STRAPPED OR STRAPLESS
BEST DRIVE AND GRIP
BEST BIG WAVE BOARD
INNEGRA SHIELD
TRI/QUAD FIN OPTION
Characteristics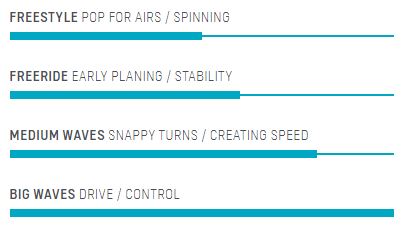 Board Features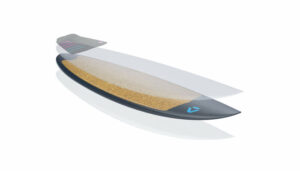 INNEGRA SLS SURFBOARD
Innegra is the reason for the predictable feel of a polyurethane surfboard, combined with liveliness, durability, dent resistance and incredible light weight. The weight reduction was achieved by replacing fiberglass with Innegra.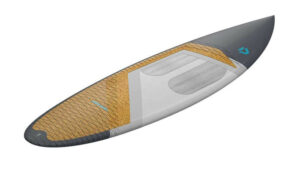 CORK SHOCK ABSORBER 2.0
Cork offers excellent absorption characteristics and reforms entirely without leaving any visible dents in contrast to PVC. Therefore, it is applied as a damper in the heel area of the surfboards.

STRAPPED OR STRAPLESS
Board is delivered with inserts so straps can be mounted.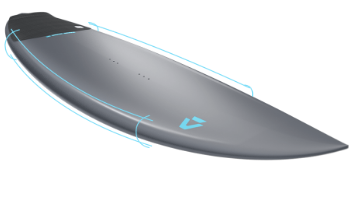 GRAB RAILS
Grab Rails for easier freestyle tricks, durability and comfortable general riding.

RESPONSIVE FLEX
Using bamboo in our surf boards, we take full advantage of the dynamic qualities of this natural product. Optimized layers and the mix with composite materials help us to construct powerful, agile and versatile surf boards that come with a unique flex – responsive flex!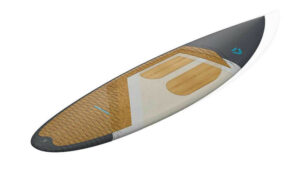 LIGHT TEAM CONSTRUCTION
We are using a more labor intensive, multi-step vacuum bag process. This yields a super strong, lightweight board with a custom, hand sanded finish. The most substantial change to the light team construction, is that we no longer use a full bamboo sandwich. The cork shock absorber, which used to be concealed under the bamboo sandwich, is now clearly visible under the deck skin and allows the deck to flex and absorb shock like a custom PU board with minimal to no heel denting, thanks to the underlying reinforcements and the remarkable memory properties of cork. Pure surf board feel in an ultra light but durable construction!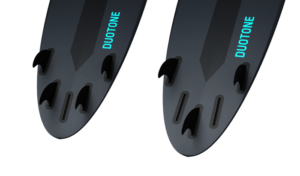 MULTIBOX – 3 OR 4 FINS SET UP
All boards now come with our own Futures Fins compatible fin boxes. Two side set screws and no rear tab allow for a wider tolerance of fin fitting and ensure a perfect and tight fit every time whether you're using our high quality composite fins or any stock after market Futures brand fin. Easy to install and uninstall even with Sand and Salt.
Depending on your preferences, the Pro Session can optional be used as Thruster or Quad fin set up.